Salmon Fishing Guides Scotland
Welcome to our newsletter page where Scottish salmon fishing updates will be entered on an ongoing daily basis.
Learning how to fish for salmon correctly is a very important factor as a salmon fishing permit on its own is valueless without the water knowledge, fishing ability & correct salmon fishing equipment levels.
We hope you'll book a guided salmon fishing experience in Scotland and become an entry on this web page.
Jock Monteith
1 Oct 2017
River Tay Boat Fishing
On big Scottish rivers like the Tay a boat is often shared amongst the daily fishing guests which can mean easier water coverage of the more distant salmon lies. Other River Tay salmon fishing venues often hire a boat & boatman out by the day which is great for those who don't necessarily wish to wade. If you're booking a guided salmon fishing day for someone who's elderly or not comfortable wading please specify and we will arrange a boat for them.
30 Sep 2017
The Ultimate Fishing Prize
Look at this for a example of a perfect Scottish fly caught salmon. The build up to a shot like this is the most amazing experience especially if you're new to this business and you've just landed your first ever salmon. Our dedicated guide team are all highly skilled and astute 'professional' Scottish salmon guides who enjoy educating & enthusing newcomers to the sport to make this quality of photograph a real possibility on your first day's salmon fishing.
29 Sep 2017
Catching Autumn Salmon
With only a few weeks of the fishing season remaining on the River Tay this is a great time of the year to catch a salmon. The secret of catching Autumn salmon on the fly is to get your fly down deep as Autumn salmon hold deep in the river. Giving proper thought to where your fly is fishing in the water column will be the difference between success or failure but no more so than during the Autumn months when a deeper presented fly is essential for success.
28 Sep 2017
Playing A Heavyweight Salmon
Once you've set the hook properly it's important that you follow a few basic principles and don't try to hold or force the fish too much which will inevitably end up with the loss of the salmon. Keep your rod tip high especially if the fish charges to the other side of the river as this tactic will reduce the chances of your line getting drowned which will put excessive strain on the leader and hook hold. Always release your hand when the fish tries to pull away or you will be broken.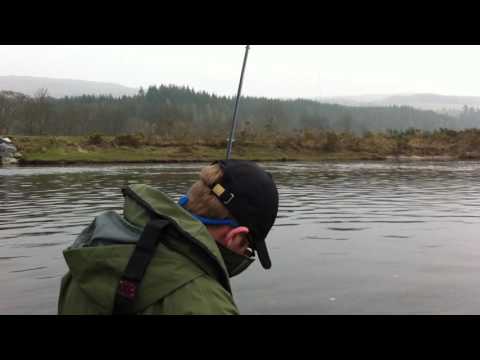 27 Sep 2017
Salmon Fishing Near Dunkeld
There are many landmark salmon river features on the famous rivers of Scotland but none more so than the 200 year old Telford Bridge which spans the River Tay at Dunkeld. This area of the Tay is where my own personal salmon fishing journey began back in 1970 and for many other thousands of other salmon fishers since then. The surrounding Dunkeld salmon fishing venues are as good as any on the Tay throughout this beautiful river's long salmon fishing season.
26 Sep 2017
River Tay Salmon Fishing
Here's a great example of a fresh run Scottish salmon that was caught on Scotland's famous River Tay. Learning the adjustments to your existing fishing approach to give you the best chances of success is a fascinating process and will no doubt change the way you look at a salmon river. Book a professional River Tay salmon guide to fine tune your salmon fishing approach and to set you off on the right footing for success in this amazing Scottish rural pursuit.
25 Sep 2017
Identifying Salmon Lies
Being able to identify the likely areas of a salmon pool where salmon may be present is a real salmon fishing skill well worth developing. Around the areas where there are riverbed features which create breaks in the current are often productive but sometimes you'll need to look closer as they won't always be as obvious as you see in this photograph. Before fishing through a pool it often pays to sit and observe the water for a few minutes instead of rushing in.
24 Sep 2017
Salmon Fishing Conditions
While many of Scottish salmon fishers follow the high tech world of electronic water gauge levels and catch statistics you simply cannot beat being in the right place at the right time in salmon fishing. Salmon thankfully operate on a completely different frequency from ourselves and can be caught in most conditions. This shot shows a troubled sky over the River Tay but if you look closer you'll see a sparkle of sunlight which I always personally like to see while salmon fishing.
23 Sep 2017
Learn To Fish For Salmon
There is a fair bit of knowledge & tact involved in creating the perfect end result photograph like this. To get there quickly it's advisable to book the services of a professional salmon guide who's fully tuned in to the river and all of the effective salmon fishing tactics. Follow this link for more details and how to book guided Scottish salmon fishing on one of Scotland's big four salmon rivers and take the guesswork out of your Atlantic salmon fishing approach.
22 Sep 2017
Fly Selection In Autumn
During the Autumn months when the leaves start to change colour and cooler temperatures arrive in the Scottish river valleys it's time to rethink your salmon fly selection colours. Fly patterns with red & orange tied into them or any material with a rustic look always work well during September & October. These colours adjustments work even better if you can get your fly down to the lower areas of the water column where salmon tend to be found at this time of year.