Salmon Fishing Guides Scotland
Welcome to our newsletter page where Scottish salmon fishing updates will be entered on an ongoing daily basis.
Learning how to fish for salmon correctly is a very important factor as a salmon fishing permit on its own is valueless without the water knowledge, fishing ability & correct salmon fishing equipment levels.
We hope you'll book a guided salmon fishing experience in Scotland and become an entry on this web page.
Jock Monteith
26 Jan 2022
River Tay Salmon Fishing
The River Tay is Scotland's largest salmon river which benefits from a huge loch fed headwater catchment guaranteeing good fishable water conditions throughout the salmon fishing season which runs from mid January to mid October. Annual catches on the Tay are obviously directly linked to actual 'rod pressure' and typically between 4,000 to 8,000 salmon are caught each year making it one of Scotland's most productive and reliable salmon rivers.
25 Jan 2022
The Most Perfect Salmon
In the cold water conditions of early Spring when there's still out of condition 'kelts' in the rivers (which are salmon that have spawned through the previous weeks or months) there's always the chance that a perfect fresh run Spring salmon like this one will be lying in amongst them. While kelts will often be eager to dunt or take your fly it's very important that you treat each contact with suspicion as often the take from a perfect Spring salmon also commences with the most subtle of nudges.
24 Jan 2022
Special Salmon River Moments
The riverbanks of Scotland are indeed some of the most amazing places to earth to experience Mother Nature's natural display of perfection. Often while fishing for salmon the light will change and throw you into a completely different dimension of natural beauty and ambiance. This shot of the River Tay was one such moment that I simply just had to reach for my camera. Book a professional Scottish salmon guide to introduce you properly to this amazing beauty.
23 Jan 2022
Playing A River Tay Salmon
It is important that you fully understand the correct ways to play a salmon and that includes knowing how to identify an area of the riverbank which is suitable for this purpose. It is also important to know exactly how much pressure to apply to the fish and the correct rod angle. If a salmon is played correctly they are always successfully landed assuming you've been effectively taught how to set the hook in the first place which from what I've seen in over 3 decades is the biggest grey area of all in Scottish salmon fishing.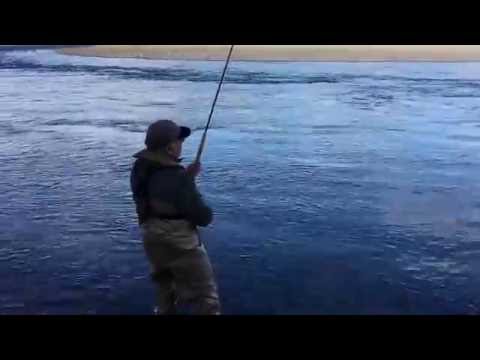 22 Jan 2022
Learn To Fish For Salmon In Scotland
Scotland has a truly amazing network of famous salmon fishing rivers to explore and some of the finest professional salmon fishing guides to make sure you're fishing the correct areas of the rivers with the optimal salmon fishing tactical approach. The value of a professional salmon fishing guide should never be underestimated as salmon are seldom easy to catch even when many are present in the Scottish rivers.
21 Jan 2022
The Value Of Salmon Fishing Tuition
If you take the time to invest in quality tuition in the basic yet proven methods of salmon pool coverage along with an understanding in how to set a hook when a salmon takes then you'll be leap years ahead of the average salmon fisher. There's so much more to Scottish salmon fishing than just turning up with a rod & permit which in my professional opinion is a waste of time. Book a professional 'time served' salmon guide and excel in this fantastic sport.
20 Jan 2022
Learning To Spey Cast
Included in all of our professionally guided salmon fishing experiences is 'effective' tuition in the traditional Scottish Spey cast. Our professional river staff are all fantastic communicators of this 'art form' salmon fly delivery technique which allows you the ability to effectively cover any salmon pool regardless of how far you can wade into the river or whatever obstacles are directly behind you that would eliminate the possible use of an overhead cast.
19 Jan 2022
Catching Big River Tay Salmon
We will soon be into the vey special Spring period of the River Tay salmon fishing where the fish of a lifetime is a distinct possibility. Nothing beats the beauty and power of a heavyweight Spring fish from Scotland's premier salmon fishing river. Make no mistake about the fact that these very special heavyweight salmon are present in the Tay and can be caught with a correct and tactfully thought out fishing approach.
18 Jan 2022
River Tay Fly Fishing Tuition
The most important elements for an instructor to be able to teach Spey casting effectively are firstly having a solid grip of the logic and mechanics of the cast and secondly being a great communicator. Technical jargon only baffles students so easy to understand simple words like 'smoothness & fluency' through the lift and swing permits the student a much shorter learning curve. Really this is the easiest cast or all to perfect if you've a good instructor by your side who's talking logic backed sense to you.
17 Jan 2022
Catching A River Tay Salmon
It takes knowledge and skill with a good understanding of salmon habits and behaviour to catch one of these perfect River Tay salmon. Fishing for salmon is not just about turning up on the river with your fishing equipment because success in this sport only comes from knowing exactly how to use it. Invest in some proper tuition and get your salmon fishing career off the starting block effectively. Book a professional River Tay salmon guide.