Salmon Fishing Guides Scotland
Welcome to our newsletter page where Scottish salmon fishing updates will be entered on an ongoing daily basis.
Learning how to fish for salmon correctly is a very important factor as a salmon fishing permit on its own is valueless without the water knowledge, fishing ability & correct salmon fishing equipment levels.
We hope you'll book a guided salmon fishing experience in Scotland and become an entry on this web page.
Jock Monteith
16 Oct 2021
Catching Memorable Salmon
There's an amazing natural high achieved by the successful capture of a perfect fresh run heavyweight salmon and make no mistake about that fact. While this is always the main objective in Scottish salmon fishing don't underestimate the tact & skill levels required to not only position you over known salmon lies but equally importantly how to cover the water correctly and exactly how to deal with the take from a salmon when that inevitably happens.
15 Oct 2021
Learning To Fish For Salmon
If you're serious about achieving success in this amazing sport you need to get with a professional salmon guide who's been in the business long enough to be able to teach the basic fundamental salmon fishing skills. Catching salmon has little really to do with luck and is much more about effective salmon pool & water column coverage with a solid understanding of how to react to a salmon take when it occurs. Don't leave you success ratio to chance.
14 Oct 2021
Playing A River Tay Salmon
Once you master the skills involved in getting to the point where you can hook a salmon it is then equally important that you know how to play & land your salmon. Never ever try to hold a salmon when it starts pulling away as the excessive strain on the hook hold and leader will almost certainly end up in the loss of your fish. When you feel the fish pulling release your hand from the reel and let it take line keeping the rod tip high to avoid your fly line being drowned.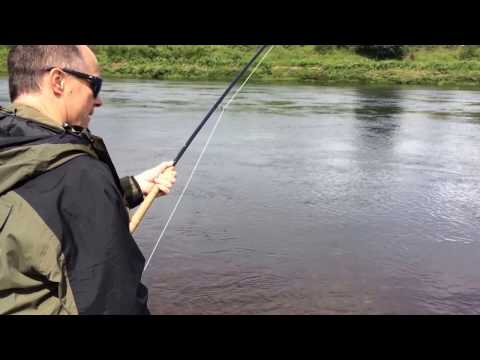 13 Oct 2021
The Beauty Of A Wild Salmon
There's various different and highly attractive components involved with catching a wild salmon. Firstly there's the careful preparation in making sure your kit is well thought out and in first class order. Then there's the excitement & anticipation involved in approaching the river. Following that you've got the high expectations that come from controlling the fly properly through each pool. The crescendo to it all is that often gentle yet firm tug on the fly reel.
12 Oct 2021
River Tay Salmon Fishing Methods
On Scotland's largest and deepest salmon river both fly fishing and spin fishing are permitted and there's definitely a time and place for each method depending on the prevailing water conditions and the month of the year. Nothing beats catching a salmon on the fly but on the Tay don't right off the thrill or skill involved in catching a salmon on the spinning rod via good riverbank movement and knowing how to set the hook when a salmon cooperates.
11 Oct 2021
Salmon Fishing Magic
There's amazing natural magic to be found on the riverbanks of Scotland and make no mistake about that fact. The ambient ever changing light conditions you'll witness throughout a day on one of Scotland's top salmon fishing rivers just has to be seen to be believed. As a professional salmon guide I'd always reach for the camera and capture all such amazing moments as you see here in this shot of this low level double rainbow on the River Tay.
10 Oct 2021
River Tay Fishing Huts
There are many differing styles of hut used these days and many of the newer styles are of Scandinavian design origin. For many years I operated out of an original Victorian hut which had formally been a curling pond hut before it was transported to a new location beside the River Tay and a full renovation carried out. Nothing beats having a well appointed salmon fishing hut to change or dry out in beside a wood burning stove and a kettle.
9 Oct 2021
Selecting A Salmon Fly
There are so many different patterns of salmon flies available these days it can indeed become mind boggling as to which pattern and size to select. Over the decades I've been involved in this game i've narrowed it down to 5 patterns that are very consistent salmon catchers through the different seasons and water conditions of the year. There's no need to carry a suitcase of salmon flies around with you and a carefully selected box of no more than a dozen flies in different sizes is more than adequate.
8 Oct 2021
7 Oct 2021
Learning Good Riverbank Movement
One of the most important salmon fishing skills that is not taught or even fully understood by the vast majority of salmon fishers is effective riverbank movement. Many anglers inch their way through a salmon pool wasting much valuable fishing time and technically training salmon to accept the presence of the fly. To make a salmon take you need to trigger its hunting instinct and that is logically best done by startling the fish via good riverbank cast spacings.