Salmon Fishing Guides Scotland
Welcome to our newsletter page where Scottish salmon fishing updates will be entered on an ongoing daily basis.
Learning how to fish for salmon correctly is a very important factor as a salmon fishing permit on its own is valueless without the water knowledge, fishing ability & correct salmon fishing equipment levels.
We hope you'll book a guided salmon fishing experience in Scotland and become an entry on this web page.
Jock Monteith
20 Mar 2019
Playing A Powerful Tay Salmon
The important thing to remember when playing a fish is to not try to rush the fight as when you try to overpower a salmon it will fight back twice as hard increasing the chances of your fish throwing the hook. The fight should be fun so take your time and enjoy the sound of the reel and feeling the salmon's power. You'll know when your salmon is ready to be landed as it will start showing its flanks at close range and that is the correct time to reach for the landing net.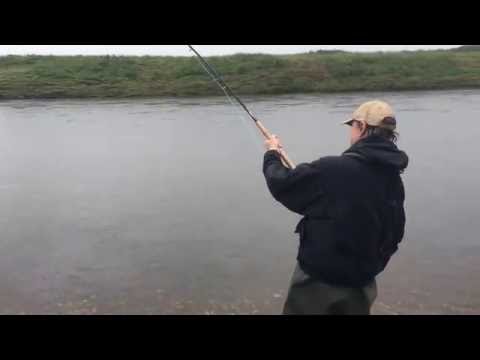 19 Mar 2019
The Perfect River Tay Salmon
Here's a shot of God's finest and most 'iconic' marine creature the Atlantic salmon. Understanding the tactics that are required to catch one of these with a fly rod on a Scottish river is essential and takes some tact, skill & patience. The easiest way to acquire these vital salmon fishing skills is through a fully guided & instructional day on one of the main Scottish salmon rivers in the company of a 'highly experienced' professional salmon guide.
18 Mar 2019
Fishing The Tay In Spring
There's most definitely something very magical about what happens on all Scottish salmon rivers during late Spring as the countryside explodes in a burst of natural brilliance. This shot was taken from just below the confluence of the River Tay & River Tummel. The Tummel is an excellent Spring salmon tributary of the Tay system so this entire area always gets you in front of Spring salmon. Not long now until the 2018 River Tay salmon fishing seasons commences.
17 Mar 2019
The Perfect Salmon Fly
The best salmon fly of all to use is one that you've got complete faith and if you're new to Scottish salmon fishing it is important to go with your professional 'time served' salmon guide's advice until you too start to build up faith in a few of the trusted Scottish salmon fly patterns. On a lighter note in saying that I've never caught a salmon rummaging through my fishing bag over the years for an alternative pattern as they always only ever seem to take the one I'm using!
16 Mar 2019
The Perfect River Tay Salmon
Hail, rain, sleet or snow will become completely unnoticeable when you feel the pull from a perfect heavyweight Spring salmon like this specimen fish which was caught on the prolific Dunkeld House salmon beat of the Tay during March. Whether you're an experienced salmon fisher with great tactical awareness or brand new to the sport in need of a professional River Tay salmon guide this beautiful salmon fishing venue will cater for your exact needs.
15 Mar 2019
Big Atlantic Salmon
The weight of an Atlantic salmon is fully dependent on how many years that particular salmon has spent in the ocean feeding. The term you'll hear mentioned from time to time is 'multi sea winter' salmon which relates to the number of winters they have spent in the sea. While seriously heavyweight salmon are scarce these days on any Scottish river there's definitely are a few that appear now and again. The River Tay is the most likely Scottish venue for one.
14 Mar 2019
Wading In The Salmon River
When you slip on a pair of chest waders on it does not mean you have to wade in up to your chest. Many salmon anglers ruin their chances of a success by wading too deeply which moves salmon out of the lies where they could otherwise have been caught. My advice is keep back and throw a slightly longer line as the height advantage you'll have in doing so should make this fairly easy. The first thing a salmon should be aware of is your salmon fly and not yourself.
13 Mar 2019
The Perfect Salmon Capture
Personally I believe that all human beings should break from the technical boredom of modern day society at least once in their lifetime to experience the sheer adrenalin inducing thrill associated with the capture of a super fit heavyweight Atlantic salmon. Follow this link to ease the normally highly complicated arrangement process of arranging  a professionally guided Scottish salmon fishing experience to make this scenario a distinct possibility.
12 Mar 2019
The Call Of The Salmon River
After you've been properly introduced to this amazing Scottish pursuit you'll no doubt find it difficult to ignore the call of river. This perfect shot is of the famous Ash Tree Pool on the Lower Kinnaird salmon beat of the River Tay. This particular salmon pool has provided special memories for thousands of visiting salmon anglers over the years and is regarded as one of the finest holding pools on the entire middle Tay. Book a quality introduction to Scottish salmon fishing.
11 Mar 2019
Catching A Spring Salmon
Here's another fine shot of a perfect fresh run Spring salmon which was caught on the River Tay during the magical month of May. This chap & his brother were on their first Scottish salmon fishing trip and both succeeded over 2 days with one of the perfect salmon each. Follow this link for more details on a booking a guided River Tay salmon fishing experience and treat yourself to a similar professional introduction to this amazing Scottish rural pursuit in 2019.